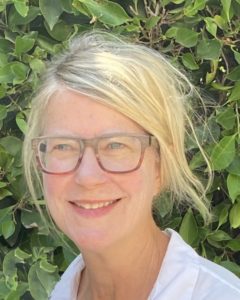 Board Secretary
After graduating from the University of Kansas with a B.S. in Organismal Biology, Brenda headed to California and began a 17 year career in the Research Division of California Family Health Council, a non-profit organization focusing on women's health, contraception and advocacy. As a Project Director, she collaborated on numerous studies funded by NIH, Bill Gates Foundation, and CONRAD, before retiring to focus on family.
A passion for gardening eventually led to a Certificate in Horticulture from UCLA Extension followed by part-time sustainable garden design. During that time, Brenda deepened her understanding and commitment toward reducing the effects of chemicals and human activity on the environment.
As her daughter progressed through elementary school, Brenda gladly took on the lead role organizing Earth Week activities and green programs at White Oak Elementary, in Westlake Village. Careful research went into developing Earth Week activities and assemblies highlighting current environmental topics such as trash-free school lunches, water conservation, single-use-plastics, importance of bees, and food waste in America. These weighty issues were presented in artful and interactive ways like an on-site Ocean GYRE (plastic trash island), student led trash fashion shows, household water-use ticker tape, and a hungry 'Bag Monster' on site!
Additionally, throughout the year, students and families have participated in
programs she inspired, such as Plastic Bag/Film Collection and Recycling and Organic Vegetable CSA weekly deliveries.
Brenda learned about Create On Your Campus(C.O.Y.C) after meeting Jemma when she began the C.O.Y.C 'Art at Lunch' program at White Oak. Seeing how the program instilled a more reusable mindset on campus as well as a sense of joy, creativity, and problem solving, she quickly became a COYC advocate and an environmental awareness collaborator with Founder, Jemma Wildermuth.
CReATE ON YOUR CAMPUS is a 501(c)3 Organization. All donations are tax-deductible.
Copyright © 2014 – 2021 CReATE ON YOUR CAMPUS, INC. All Rights Reserved.